An NBC Nightly News Investigation found the Recovery filter, sold by C.R. Bard, to be linked to approximately 300 non-fatal problems and at least 27 deaths. Following these reports, NBC News sought to answer serious questions about the manufacturers knowledge of the device's fatal flaws.
To watch the first part of this ongoing investigation into C.R. Bard, watch the video below:
Inferior Vena Cava (IVC) filters are small cage-like devices designed to sit inside the vena cava. The Recovery filter, a type of IVC filter manufactured by Bard, is typically implanted with the intention of blocking blood clots from traveling to the heart or lungs, where they could be deadly.
According to this NBC News investigation, a regulatory specialist was recruited by C. R. Bard to help secure FDA clearance for its Recovery blood clot filter. However, the regulatory specialist admitted to NBC News to having serious concerns about the product at the time Bard made its first application for the filter, which was rejected at that time. Additionally, she stated that Bard did not give her important safety test results.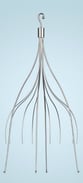 An outside doctor was also retained by Bard to conduct a confidential study on the Recovery filter. The results found the Recovery filter had higher rates of relative risk for filter fracture, filter movement, and even death, than all its competitors.
As reports of deaths and injuries continued to emerge, Bard did not recall the Recovery and sold thousands of filters up until 2005. According to NBC, there were more than 34,000 sold and more than 20,000 people still have the Recovery implanted.
If you or a loved one have an IVC Filter implanted and have immediate concerns, please consult your physician. If you have an IVC Filter implanted, it's important to be aware of the side effects and your rights. If you would like to discuss your legal options regarding an IVC Filter lawsuit, visit our website or call toll-free (800) 310-0983.
Sources: NBC News
---
Additional IVC Filter Resources:
---