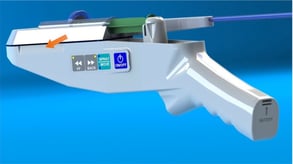 A new 'Skin Gun' technology could help burn victims regenerate skin in days, according to Mashable. This stem cell gun, developed by RenovaCare, relies on the human body's ability to heal itself for a quicker and gentler recovery.
Skin graft surgery, which transplants tissue from one area of the body to another, is commonly used to help treat severe burn injuries. This painful procedure can take weeks to heal, and requires hospital stay.
RenovaCare, the manufacturer of the 'Skin Gun,' claims its technology is a faster, more effective alternative to skin graft surgery. The stem cell gun, which is still pending FDA approval, can heal burns in just days by spraying burn victims own skin cells through a procedure takes only 90 minutes.
In this video from Mashable, you'll see a man who RenovaCare claims used the new technology to heal severe burns on his arms and legs. Before viewing, be aware that the video shows some graphic images of burn injury.
While this new development could lead to new options for burn injuries, there's no recovering from the emotional, physical and practical burden of sustaining an injury due to negligence. If you or a loved one has experienced severe burn injury due to negligence, you may be able to seek compensation for your loss.
To help you stay informed, we will continue to share important news involving burn injury. You can learn more about your rights and our firm by visiting our website or calling (800) 720-7110.
Additional Burn Injury Resources