Recent studies show common heartburn drugs, such as Nexium, Prilosec, and Prevacid, may be linked to long-term kidney damage. According to CBS News, heartburn drugs, also known as proton pump inhibitors, can increase the risk of developing chronic kidney disease by 50 percent.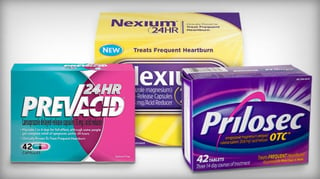 Nexium, Prilosec, and other proton pump inhibitors (PPIs), are prescribed with the intention of treating heartburn and acid reflux by lowering the amount of acid produced by the stomach. According to a study by John Hopkins University in Baltimore, more than 15 million Americans used PPIs in 2013. However, as many as 70 percent of those prescriptions were wrongly recommended, and 25 percent of long-term PPI users could stop taking the medication without experiencing increased heartburn or acid reflux.
These common heartburn drugs have already been linked to short-term kidney problems, including acute kidney damage and an inflammatory kidney disease called acute interstitial nephritis. It wasn't until recently that PPIs were also linked to chronic kidney disease, which prevents kidneys from filtering blood effectively. Additionally, the kidneys can also become damaged if patients suffer repeated stints of acute kidney inflammation due to PPIs.
If you or a loved one has taken a PPI such as Nexium, Prilosec, or Prevacid, it's important to be aware of the potential effects and your rights. Consult with your physician if you have medical concerns. To help you stay informed, The Law Offices of Foster & Houston will continue to share important news involving these heartburn drugs.
If you've taken PPIs and have experienced kidney disease, you may be able to obtain compensation for your injury. You can learn more about seeking justice and PPIs by visiting our website. To view the CBS News article in full, click here.