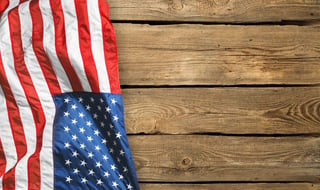 Originally called Decoration Day, Memorial Day is a time for the country to come together and remember those who bravely gave their lives in service of the United States of America. Every year, we take time as a firm and a family to remember our fallen soldiers and discuss the importance of this holiday.
The Roots of Remembrance
Memorial Day originated in 1865 during the years following the Civil War. However, it wasn't deemed an official federal holiday until 1971. Before Memorial Day was a nationally recognized holiday, Americans would honor fallen soldiers by decorating their graves with flowers and delivering prayers.
In 1966, Waterloo, New York, became the official birthplace of Memorial Day. While it's widely disputed where the holiday began, Waterloo earned its title due to it's annual, community-wide event where businesses closed and residents decorated the graves of soldiers with flowers and flags.
Honoring the Fallen
Many Americans observe Memorial Day by holding family get-togethers, visiting memorials or cemeteries, and participating in parades. Every year, a moment of silence is encouraged on Memorial Day at 3 o'clock in the afternoon, local time.

As a firm, we honor our family and the many heroic servicemen and women by supporting the Wounded Warrior Project. This military and veterans' charity service organization empowers injured veterans and their families by offering a variety of programs and services. To date, Wounded Warrior Project (WWP) has served 88,978 veterans and 18,564 family members.
Sources: History.com
---